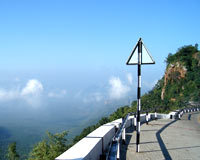 Location:
Andhra Pradesh
Altitude:
162 m
Best Time to Visit:
October to February
Summer Temperature:
45° C (maximum), 35° C (minimum)
Winter Temperature:
18° C (maximum), 10° C (minimum)
Situated in the Chittoor district of Andhra Pradesh, Tirupati is the town of Lord Venkateswara. It is famous for housing the Tirumala Balaji Temple, which today claims the distinction of being one of the most revered Hindu temples in the whole world. The town is thronged by devotees all around the year, who come to pay their obeisance to the Lord. Keeping the tropical climate of Tirupathi in mind, one can say that the best time to visit the pilgrim destination is during the months of October to March, when the weather conditions are at their very best. With the information given below, know more about the weather and climate of the city.
Summers
In Tirupati, the summer season lasts from the month of March to that of June. The heat during this time is pretty severe, with the maximum temperature going as high as 45° C. Even the nights do not provide too much solace, with the minimum temperature averaging around 30 to 35° C. Still, you will find no dearth of devotees in Tirupati, even in the summer season. During that time also, their enthusiasm is as high as ever.
Monsoon
After the severity of the summers, it is the time for the monsoons to bring a little respite to the city dwellers. Rains start in Tirupati around end-June/ beginning of July and last till end-September/ beginning of October. Though the showers are not too heavy, they mange to subdue the heat to some an extent. However, the resultant humidity makes up for all the loss. Around the month of October, the weather starts becoming pretty pleasant, especially with the cool breeze blowing in your face.
Winters
Come November and it is the time for the winters to spread a cool blanket over the holy city of Tirupati. The winter season lasts till February, though March is not too bad either. However, do not expect freezing cold, as the maximum temperature in Tirupati, during this time also, is around 18° C, though the nights are much cooler. Far away from the heat of the summers and humidity of the monsoons, the winter season (around October to February) presents the best time to visit the temple town.