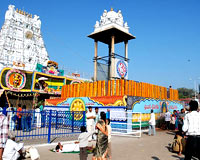 Location:
Chittoor District (Andhra Pradesh)
Climate:
Tropical
Best Time to Visit:
October to February
Major Attractions:
Sri Venkateswara Temple, Sri Govindrajaswamy Temple, Sri Kapileswaraswami Temple, Sri Kodandaramaswami Temple, etc
Tirumala Tirupati is situated in the Chittoor district, in the southern part of Andhra Pradesh. The town owes its existence to a temple situated within its precincts, known as "Sri Venkateswara Temple". Dedicated to Lord Vishnu (Lord Venkateswara), the temple has resulted in Tirupathi being famous throughout the world, as the "Abode of Lord Venkateswara". The temple is situated atop the Tirumala Hill, considered to be amongst the second oldest rock mountains in the world.
The city boasts of a large number of other temples too and also is known for being home to Sri Venkateswara University, one of the three major universities in Andhra Pradesh. Owing to all these attractions, Tirupati has become a major contributor to the travel and tourism industry of Andhra Pradesh. One can find the mention of Tiruvengadam (now Tirupati) even in the Sangam literature of Tamil, like Silapadikaram and Satanar's Manimekalai, which dates back to somewhere around 500 BC to 300 AD, hinting at its ancient origins.
As per the records in the Indian literature, it is believed that the city was also "Aadi Varaha Kshetra" (the ancient site of Varaha) during the Mauryan and Gupta regimes. By 5th century AD, Tirupathi became an established religious center and, in terms of significance, was regarded next only to Srirangam. All the dynasties that ruled over the city bowed at Sri Venkateswara Temple and made contributions that have resulted in making it one of the richest temples in the whole world.
In fact, it is said that the Pallavas of Kancheepuram, the Cholas of Thanjavur, the Pandyas of Madurai, and the kings and chieftains of Vijayanagar, which ruled over Tirupati one after the other, competed with their predecessors in offering donations to the temple. Today, the reverence of the temple, and along with it the city, has rose to such an extent that devotees come here, from various corners of the world, to bow before the Lord and offer their respects. It is said that whoever prays to the Lord, with sincere intentions, never goes back empty handed.